SUPERHEROES
February brings the superheroine edition of the Black Butterfly box for the girls and the superheroes edition of the Black Dragonfly box for the boys.
Inside it, they find their favorite black superheroes and learn about new ones. The books featured different Black Panther Comic books! Just in time for the release of Black Panther!
This month we feature Marcus Kwame Anderson and the comic he created EastRaven Adventures. He is an artist born in Kingston, Jamaica and moved to upstate New York at an early age. His art is a representation of the beauty and diversity of the African Diaspora.
Please make sure to share your unboxing photos and videos by tagging #BBFebruarybox. We love to hear your thoughts on the products you received!!!
What's in the February Box
All Boxes receives the following items:
Create Your Own Comic Book Activity Pads
Ever wanted to create your own comic book? Get started with these activity pads! Create your superhero using the pre-printed prompts and then let your creativity fly! How did your hero come to be? What's his origin story? Delve into the depths of what makes your hero tick and your comic will appear before your eyes! Features tools to create your comic, pre-printed panels, stencils and hints. Paper. 5″ x 7″ 52 pgs
Superhero Stickers
So cute and colorful stickers with Comic style sound effects!
Superhero Lanyards
Carry your keys, pen, name tag or…superhero identity around more easily! These Superhero Lanyards are fun student rewards and just what kids need to keep their hands free to save the day. Make everyone feel like a hero at superhero parties, conventions, special events and more! Includes a 1″ metal clip. Polyester. 33″
Melanin Power Lapel Pin
A custom made lapel pin with a superhero power which we are really proud of, the MELANIN POWER! A pin that can be used to jazz up your wardrobe or your bag!
Superhero Girl Drawstring Backpacks
Power-pack these backpacks with superhero goodies for your super girl's birthday party! Reusable bags make great party favors, and these cute and colorful drawstring sacks are perfect for toting school supplies, dance outfits, picnic lunches and beach gear after the celebration is over. Nonwoven polyester. 13″ x 15″
Black Panther Soft Touch Magnet
Add a reminder of your favorite Marvel hero anywhere! This Black Panther Soft Touch Magnet will look great in your kitchen, on the desk, or any metallic surface.
Superhero Pop Socket
A custom-designed pop socket, with a superheroine design!
Superhero Keychain
Support the superhero fandom with these superhero-themed keychains! Perfect for comic book enthusiasts, these metal keyrings come adorned with a rubber pendant depicting a popular pop art phrase such as POW!, SNAP! and BAM!.
Charcoal Facial Mask Sheet
Charcoal absorbs impurities and detoxifies skin. Smooths skin for a glowing complexion. Minimizes pores for a soft and supple look. In 15 minutes you can have quick results targeting skin issues like tone, hydration, firmness, and clarity. Individually soaked paper sheets that contours to your face.
EastRaven Adventures (Featured Black Business)
A comic book created by Marcus Kwame Anderson, our feature Black Business of the month.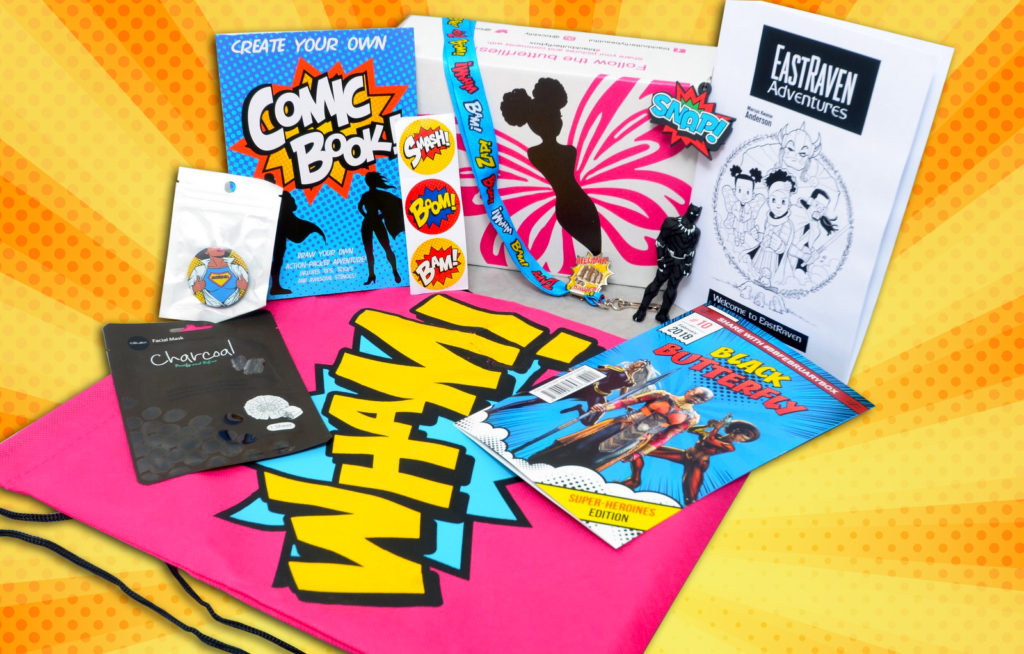 Babies Box
Black Panther: Meet the Black Panther
MARVEL's Black Panther: Meet Black Panther by R. R. Busse
T'Challa, as the Black Panther and warrior King of Wakanda, must team up with elite members of the Dora Milaje—Wakanda's special forces—and C.I.A. agent Everett K. Ross to defend his kingdom in this epic leveled reader based on the upcoming film Marvel's Black Panther.

Tweens Box
Black Panther The Young Prince
Black Panther. Ruler of Wakanda. Avenger.
This is his destiny. But right now, he's simply T'Challa-the young prince.
Life is comfortable for twelve-year-old T'Challa in his home of Wakanda, an isolated, technologically advanced African nation. When he's not learning how to rule a kingdom from his father-the reigning Black Panther-or testing out the latest tech, he's off breaking rules with his best friend, M'Baku. But as conflict brews near Wakanda, T'Challa's father makes a startling announcement: he's sending T'Challa and M'Baku to school in America.
This is no prestigious private academy-they've been enrolled at South Side Middle School in the heart of Chicago. Despite being given a high-tech suit and a Vibranium ring to use only in case of an emergency, T'Challa realizes he might not be as equipped to handle life in America as he thought. Especially when it comes to navigating new friendships while hiding his true identity as the prince of a powerful nation, and avoiding Gemini Jones, a menacing classmate who is rumored to be involved in dark magic.
When strange things begin happening around school, T'Challa sets out to uncover the source. But what he discovers in the process is far more sinister than he could ever have imagined. In order to protect his friends and stop an ancient evil, T'Challa must take on the mantle of a hero, setting him on the path to becoming the Black Panther.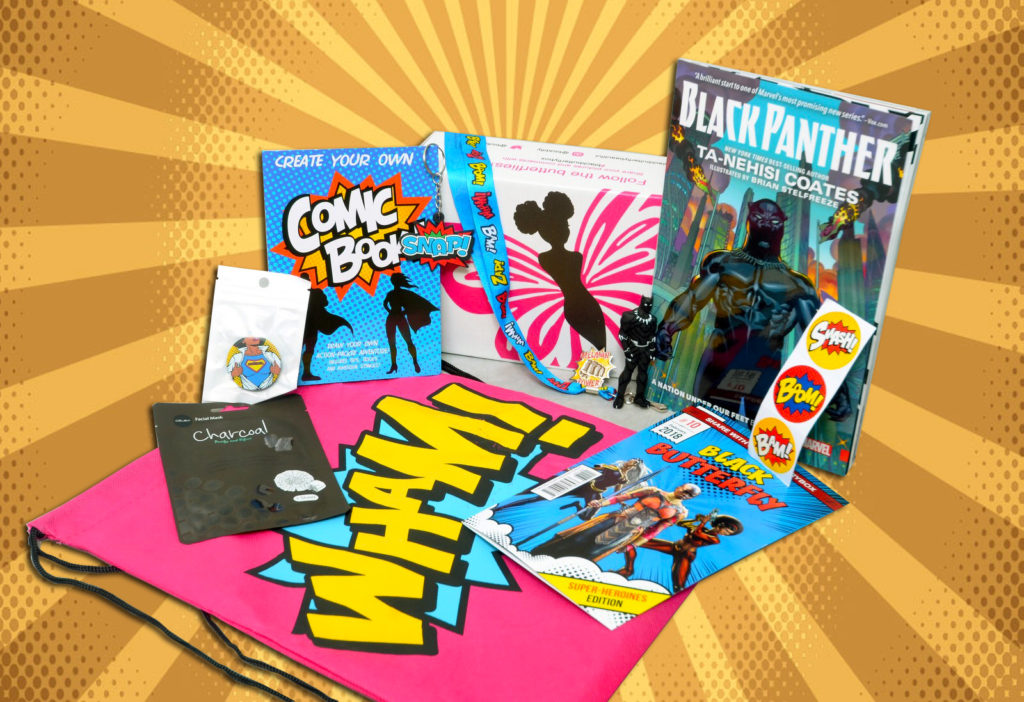 Teens Box
Black Panther: A Nation Under Our Feet
A new era begins for the Black Panther! MacArthur Genius and National Book Award winner Ta-Nehisi Coates ( Between the World and Me )takes the helm, confronting T'Challa with a dramatic upheaval in Wakanda that will make leading the African nation tougher than ever before. When a superhuman terrorist group that calls itself The People sparks a violent uprising, the land famed for its incredible technology and proud warrior traditions will be thrown into turmoil. If Wakanda is to survive, it must adapt–but can its monarch, one in a long line of Black Panthers, survive the necessary change? Heavy lies the head that wears the cowl!