Since her days of competing on American Idol Season 3, Jennifer Hudson has become incredibly successful. She's had a singing career, and even dabbled in some acting, with her debut being the 2006 box-office hit Dreamgirls — managing to pick up an Oscar along the way. However, listening to her story, fans will learn that it hasn't been exactly smooth sailing for the entertainer. And while super inspiring, Hudson's recent Cosmopolitan U.K. interview shows some hard truths about what black women face in the industry.
Hudson has literally defied all of the odds. The Chicago native comes from humble beginnings, and recalls working at Burger King while moonlighting as a singer in the Windy City's nightclubs before becoming a big name. Though what seems to be years of experience behind the mic, fans first learned of the exhilarating singer, with a dynamic voice to match, after watching her 2004 audition for American Idol.
Her seventh place finish in the national singing competition was only the beginning, because just three years post competing for the title, the singer won an Oscar, a BAFTA, a NAACP Image Award, and a Golden Globe for her Dreamgirls performance. She'd later go on to star on Broadway, garnering critical acclaim and countless accolades throughout the years. Achieving such stardom in the industry, however, didn't make the entertainer immune from experiencing some of the very unfortunate things regular people of color face on a daily basis, however, like sexism and discrimination. And in the Cosmopolitan U.K. piece, Hudson shared some of the heartbreaking details.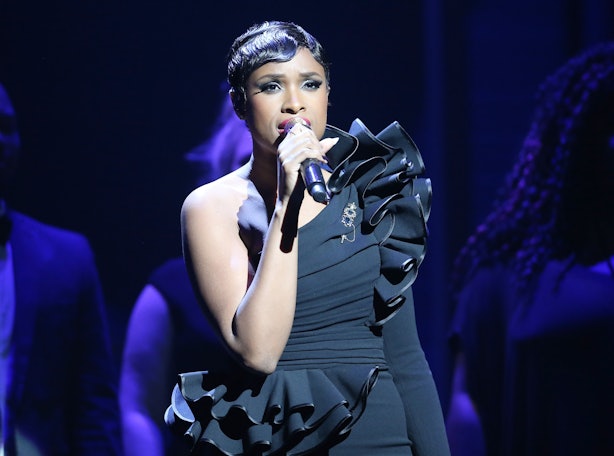 In the interview, Hudson explained, "There have been several situations where I get on a plane and [the air steward] assumes that I'm [meant to be] in the back of the plane." The artist also told of another time where movers assumed that her home belonged to her white, male driver, instead of her. And while searching for the appropriate places to sit her belongings, they referred all questions to him.
As if facing discrimination within the industry wasn't enough (like, Hollywood's disparaging pay gap, being type-casted for culturally insensitive roles, as well as the lack of roles available to women of color), not receiving respect on the most basic level from those you interact with is a total slap in a face. Sadly, these experiences aren't exclusive to Hudson. And she isn't the only …