Once Upon a Time…
This month we brought a fairy tale themed selection of books and other goodies tailored for black princesses and queens. The books are curated to educate, improve girl's self-esteem and improve self-acceptance. It also includes other items like a stationary set with princess theme, some jewelry items fit for a royalty, a royalty bookmark especially designed by a black-owned business and a makeup palette for teens.
Please make sure to share your unboxing photos and videos by tagging #BBNovemberBox. Get the chance to win by joining our November Box Photo Challenge. We love to hear your thoughts on the products you received!!!
What's in the November Box
All Boxes receives the following items:
Princess Stationary Set
Use these stickers, pencil, and erasers for school, for journaling, or for whatever needs a little bit of royal flair.
Frog Princess Earrings
If you think about it, a frog is just one kiss away from being a Prince. Well.. OK maybe they are just frogs, but they make very cute dangling earrings!
Dig a Little Deeper Necklace
Mama Odie sings this to the Prince of Princess and the Frog telling him to dig within himself to find what he really needs because it's not money.
Princess Mirror
You don't need to ask a mirror who is the prettiest. But you'll feel like a real Princess when using this beautiful rose gold handheld mirror.
Princess and the Frog Quote Keychain
Keychain features a quote from the song  Ma Belle Evangeline, beads, and a crown and a frog charms.  Use it for keys or as an ornament.
Crown Sleep Mask
There are few things more important than your beauty sleep. Get your rest on with this mask and sleep like a Queen.
Royalty Bookmark
Illustrated and designed by Elayna Speight from the Black Owned Business of the month, Inked Designs. Her Queen rendition reminds  you " You are Royalty".
Babies Box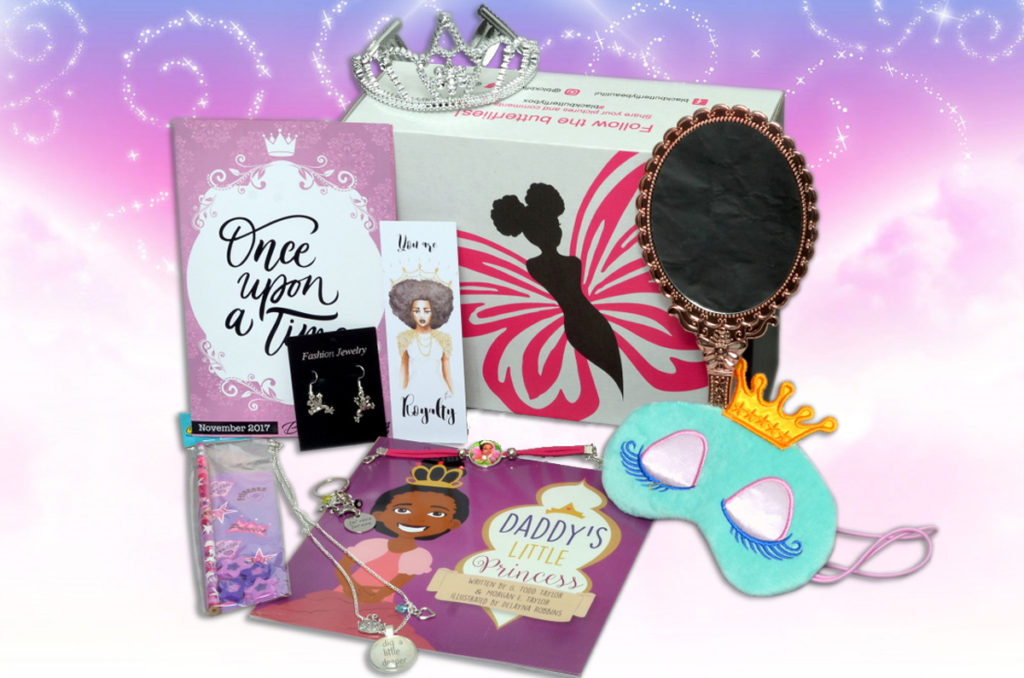 Daddy's Little Princess by Morgan E. Taylor and G. Todd Taylor
7-year-old co-author Morgan E. Taylor thinks that every little girl should believe she's a Princess. Unfortunately,  most of the common images of Princesses do not represent the rich diversity of royalty.  Daddy' s Little Princess introduces real-life African Queens and Princesses in all shades.  This book educates, builds self-esteem and inspires young readers to embrace their greatness.
Tiana Bracelet (also included in tweens box)
You can have our favorite Princess, the lady boss, Tiana, with you anywhere you go with this pretty bracelet.
Tweens Box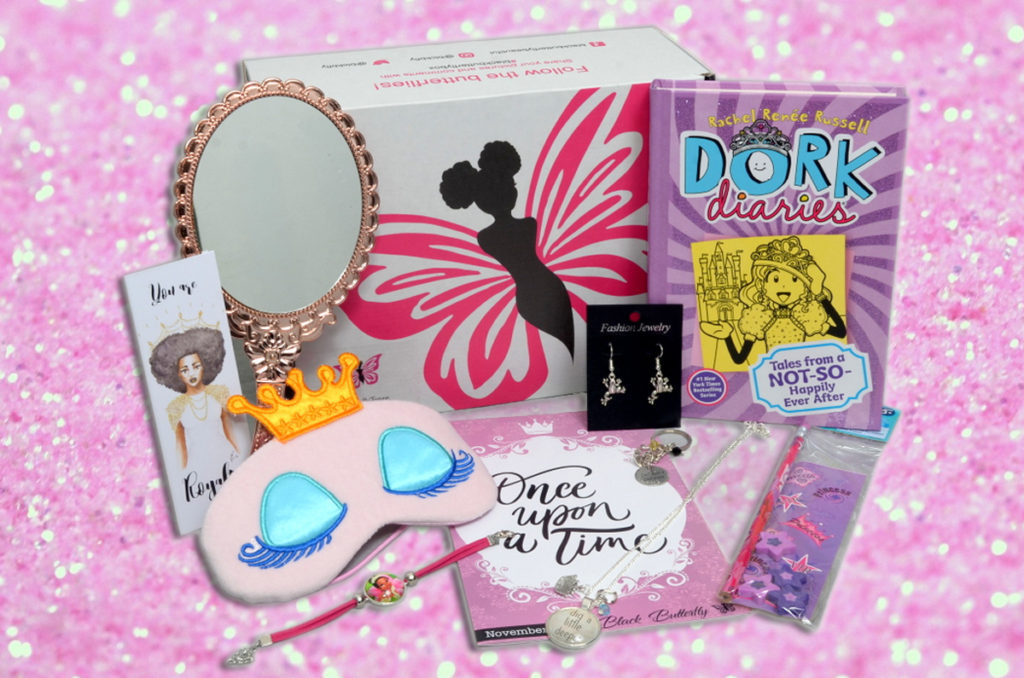 Dork Diaries 8: Tales from a Not-So-Happily Ever After By Rachel Renée Russell
Nikki Maxwell's favorite fairy tales get dork-tastic twists in the eighth book of the #1 New York Times bestselling Dork Diaries series!
After a bump on the head in gym class on April Fool's Day, Nikki has a wild dream in which she, her BFFs Chloe and Zoey, her crush Brandon, and mean girl Mackenzie all end up playing the roles of some familiar classic fairy tale characters. Of course, the stories don't go quite as expected—because they each have a very special Dork Diaries spin!
Tiana Bracelet (also included in Babies box)
You can have our favorite Princess, the lady boss, Tiana, with you anywhere you go with this pretty bracelet.
Teens Box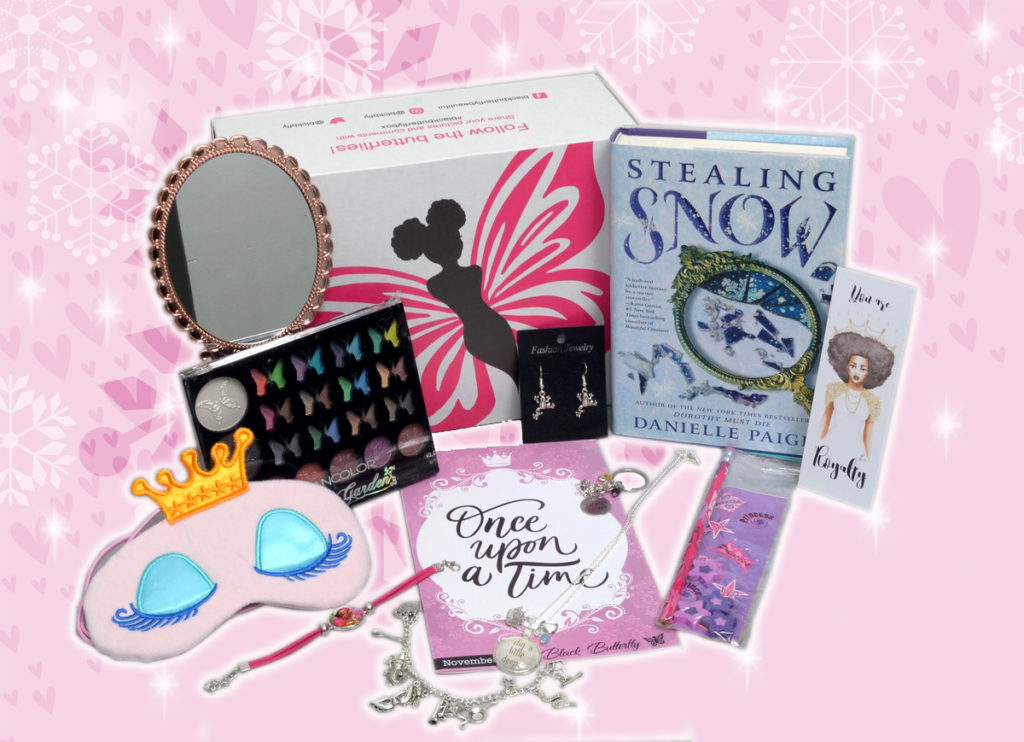 Stealing Snow by Danielle Page
Seventeen-year-old Snow has spent the majority of her life within the walls of the Whittaker Institute, a high-security mental hospital in upstate New York. Deep down, she knows she's not crazy and doesn't belong there. When she meets a mysterious, handsome new orderly and dreams about a strange twisted tree she realizes she must escape and figure out who she really is.
Princess and the Frog Charm Bracelet
The charms in this very cute bracelet represent Tiana's story from the Bayou to Mardi Gras to her cooking skills.
Beauty Garden Palette
The butterflies and colors in this eyeshadow palette could've come straight out of a Princess castle garden. Includes neutral and bright colors.