I put a spell on you…
This month's theme is all about magic, Black girl Magic that is. The box feature products that will celebrate black butterfly's beauty and power. This month we were able to include products which are somewhat magical like color changing items and holographic items which every girl would love. Of course, a Black Butterfly box is not complete with the book of the month. This month we chose books about magic spells, wizardry, and enchantment.
Please make sure to share your unboxing photos and videos by tagging #blackbutterflybox. We love to hear your thoughts on the products you received!!!
What's in the October Box
All Boxes receives the following items:
Butterfly Lace Mask
Put this delicate butterfly mask on and you' re ready for a magical masquerade! Or for any occasion that requires dress up or a costume, for that matter. We' re sure it will be useful this month.
Black Sparkle Bath Bomb
Relax and surround yourself with black waves of sparkled, beautifully scented magic bath water. Activated charcoal will act as a detoxifier while the moisturizing oils work to reveal soft supple and refreshed skin.
Butterfly Mood Ring
Watch it magically change color s to reflect y our mood. Size is adjustable so you'll get the perfect fit, as well as the perfect look!
Holographic Notepad
Never forget a magical idea again, write it down on your handy holonotepad. Now, don't get too distracted looking at the cover. Aren' t the shifting rainbows just mesmerizing?
I  am Magic Affirmation Cards
From We Are Karasi, the featured Black Owned Business.Empower yourself with these affirmation cards, reflection them and remind yourself that you are magical. You can get a bigger set on www.wearekarasi.org
Holographic Sticker
Show off your Black Girl Magic pride with this cool sparkly holosticker. Custom made for you!
Babies Box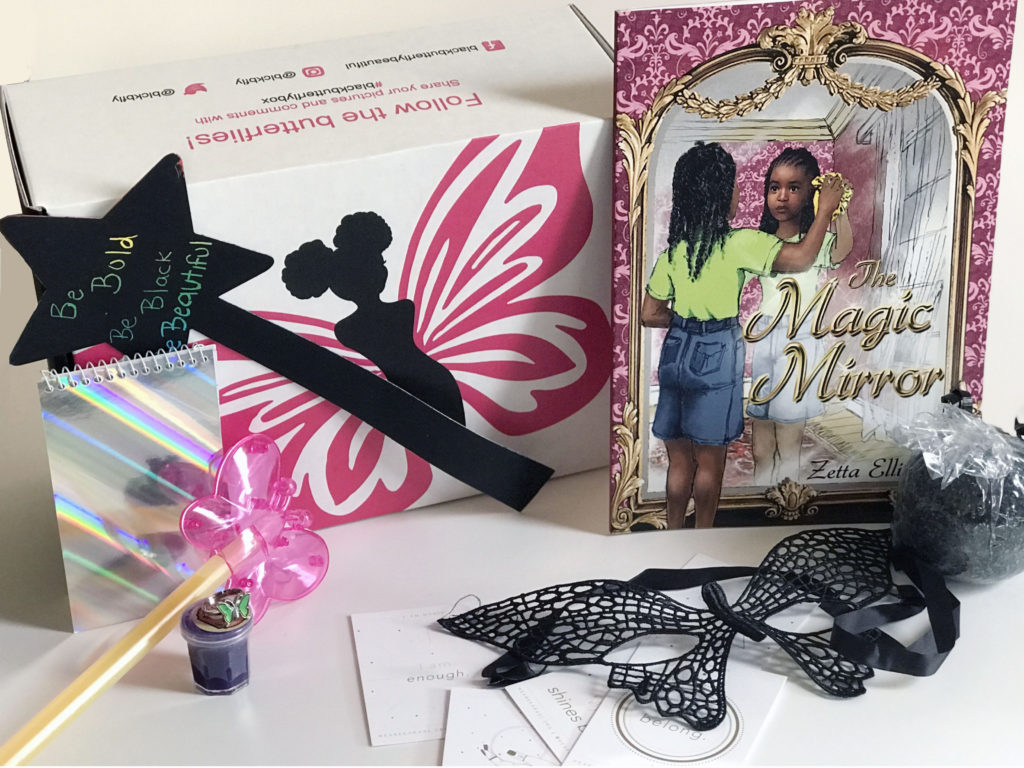 The Magic Mirror by Zetta Elliott
When a boy at school hurts Kamara's feelings, she goes home and asks her grandmother if the mean words are really true. Gramma tells Kamara to go upstairs and clean the old mirror in the guestroom. But when Kamara starts to rub the glass, she discovers that the mirror is magical! Kamara sees brave women from the past who faced many challenges yet never gave up hope. When the historical journey ends in the twenty-first century, the mirror once again shows Kamara her own reflection. She sheds herself-doubt and instead draws strength from the courage of the women she met in the magic mirror.
Magic Potion Slime (also included in tweens box)
What were these potions intended for? We don't know, but they are slimy and gooey and great for poking, kneading, stretching, squishing…Never before has a magic potion been so fun to play with.
Magic Scratch Wands
Time to be an artist and get your creative juices flowing. Use your scratching tool to make colorful designs and make this magic wand even more magical!You can hang your masterpiece on your wall or on the fridge.
Butterfly Glow Wand
Snap and shake the glowstick to activate, and your beautiful butterfly magic wand is ready. Now you just have to wave it around to spread your magic and light up every corner.
Magic Trick Tattoos
These easy to apply tattoos feature the classic magician tricks.Who doesn't love magic hat tricks? Little ones can enjoy them, they are non-toxic and safe for the in, and they're easy to remove too.
Tweens Box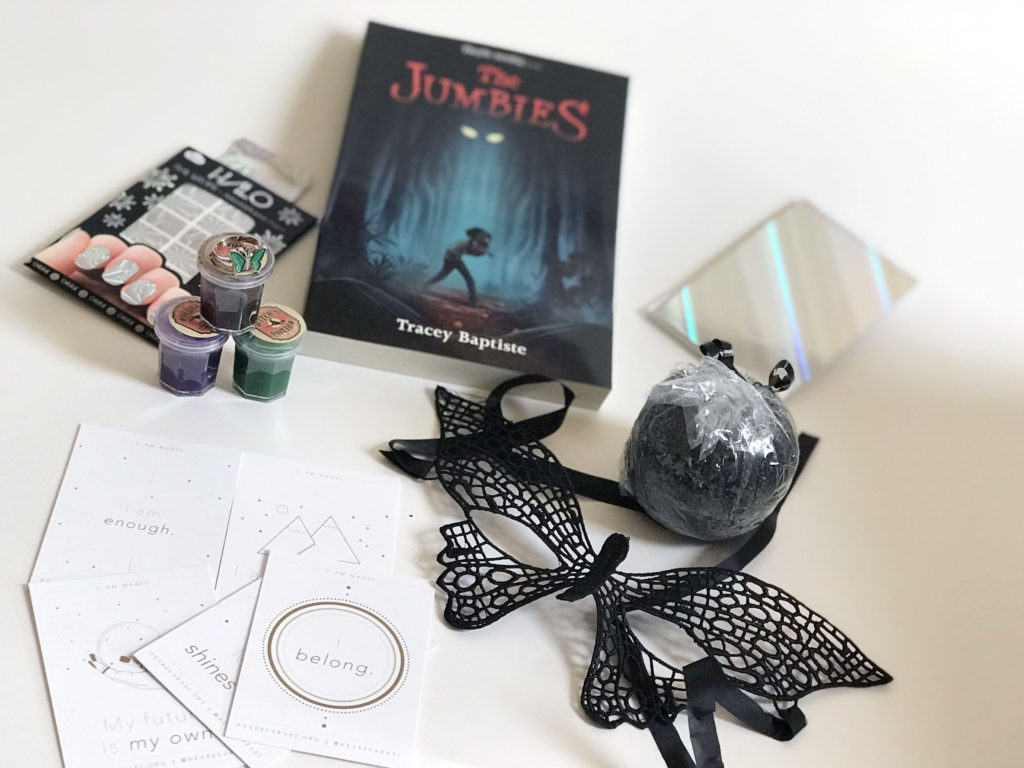 The Jumbies by Tracey Baptiste
Corinne La Mer claims she isn't afraid of anything. Not scorpions, not the boys who tease her, and certainly not jumbies. They're just tricksters made up by parents to frighten their children. The none night Corinne chases an agouti all the way into the forbidden forest and shining yellow eyes follow her to the edge of the trees. They couldn't belong to a jumbie. Or could they? When Corinne spots a beautiful stranger at the market the very next day, she knows something extraordinary is about to happen. When this same beauty, called Severine, turns up at Corinne'shouse, the danger is in the air. Severine plans to claim the entire island for the jumbies. Corinne must call on her courage and her friends and learn to use ancient magic she didn't know she possessed to stop Severine and to save her island home.
Holographic Nail Wraps (Also included in Teens Box)
Get the most magical nails in no time with these silver holo nail wraps. Simply apply and trim to the desired shape and size. This is what we call having magic at your fingertips.
Magic Potion Slime (also included in Babies box)
Teens Box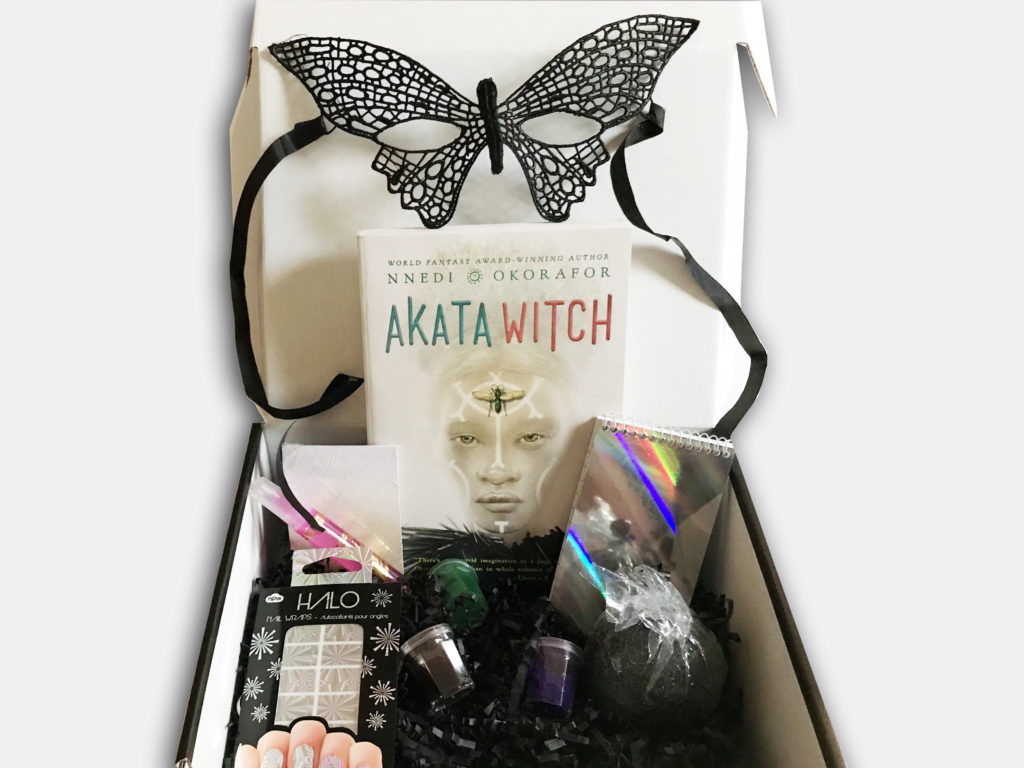 Akata Witch by Nnedi Okorafor
Affectionately dubbed "the Nigerian Harry Potter, "Akata Witch weaves together a heart-pounding tale of magic, mystery ,and finding one's place in the world. Twelve-year-old Sunny lives in Nigeria, but she was born American. Her features are African, but she's albino. She's a terrific athlete, but can't go out into the sun to play soccer. There seems to be no place where she fits in. And then she discovers something amazing—she is a"free agent" with latent magical power. Soon she's part of a quartet of magic students, studying the visible and invisible,l earning to changereality. But will it be enough to help them when they are asked to catch a career criminal who knows magic too?
Magic Kiss Lipgloss
This is no ordinary lipgloss, it changes its color according to your body temperatures…now that's magical!
Holographic Nail Wraps (Also included in Tweens Box)