We're still feeling the hype over Black Panther and all of the fierce women in the movie,  so we want to celebrate the strength of Africam women and the importance of the rituals, symbols and traditions form our Motherland.
Africa has and is often painted as and underdeveloped "country" when it is actually the second largest continent, that is culturally rich, full of beauty and the cradle of civilization. It's very important that we know where we come from and to be proud of it.
Wear your headwraps, face make-up and henna tattoos with pride and tag us in your pictures using the hashtag #BBMarchBox for a chance to be featured on our socials!
What's in the March Box
All Boxes receives the following items:
Africa Map Wood Earrings
If you are rocking your natural hair, then you must HAVE these Afro Map earrings to complement your Afro, twist-outs, braid outs and wash-n-go's. They are so cute. They are made of plastic wood and are not heavy. They are so lightweight you can wear them all day.
African Head Wraps
This month we added this beautiful hair accessory to accent your natural fro. These headwraps have a significant part in African history. For women, it's their identity in society- a beautiful adornment that makes them feel unique.
Henna Tattoos
Henna Tattoos is part of this month's box because they have been used centuries to dye skin, hair and fingernails, as well as fabrics and leather. It was grown mostly in North Africa. African Henna Patterns are more bold and geometric. In Sudan, Mehndi is displayed primarily by married women on their hands, fingertips and feet. Unmarried women generally do not wear Mehndi; The exception is while participating in the wedding ceremony of another woman.
Cowrie Shells
The cowrie shell is possibly one of the single most recognizable symbol of African culture spiritually today. The cowrie is a small marine snail that lives in tropical waters of the Pacific and Indian oceans. It is believed that cowrie shells were the first currency used by mankind. In Ancient Africa they represented wealth and were traded for food, goods and services.
Africa Bookmark
We added this beautiful Africa artwork that represents the beauty of our Motherland.
Kente Choker(Featured Black Business)
Hand sewn Ankara black and white fabric choker by our featured BOB, Ephi210Designs.

Babies Box
Anna Hibiscus by Atinuke
Anna Hibiscus lives in amazing Africa with her mother, her father, her baby twin brothers, and lots and lots of her family. Join her as she splashes in the sea, prepares for a party, sells oranges, and hopes to see sweet, sweet snow.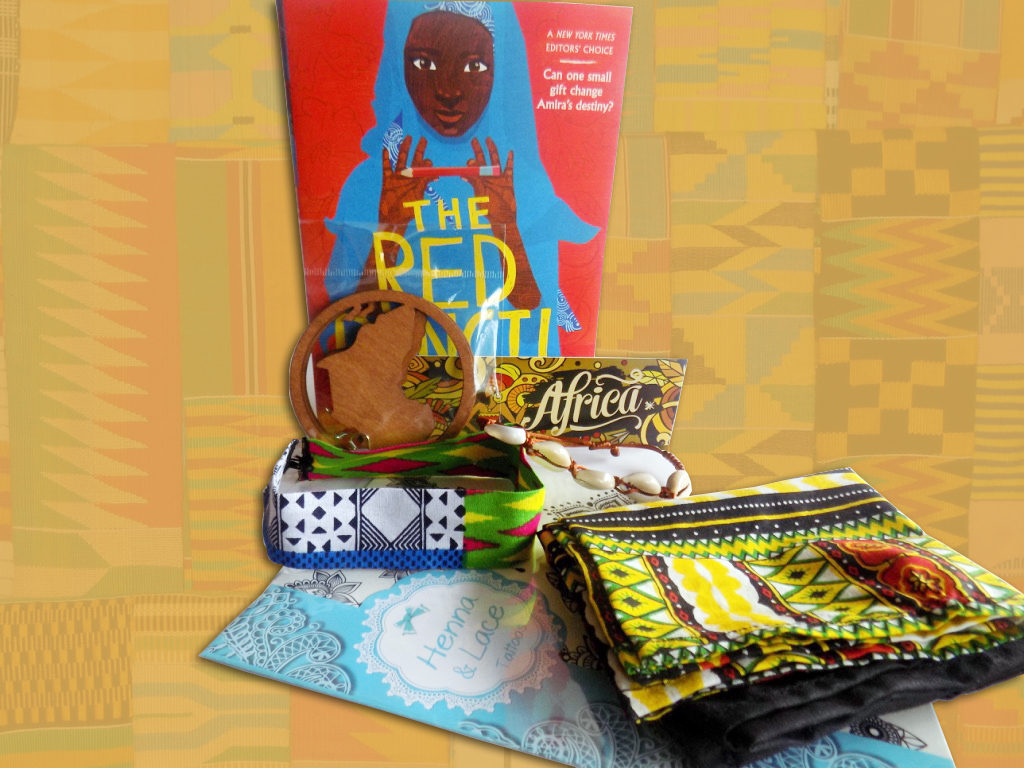 Tweens Box
The Red Pencil b
y

 Andrea Davis Pinkney

Finally, Amira is twelve. Old enough to wear a toob, old enough for new responsibilities. And maybe old enough to go to school in Nyala–Amira's one true dream.

But life in her peaceful Sudanese village is shattered when the Janjaweed arrive. The terrifying attackers ravage the town and unleash unspeakable horrors. After she loses nearly everything, Amira needs to dig deep within herself to find the strength to make the long journey–on foot–to safety at a refugee camp. Her days are tough at the camp, until the gift of a simple red pencil opens her mind–and all kinds of possibilities.

New York Times bestselling and Coretta Scott King Award-winning author Andrea Davis Pinkney's powerful verse and Coretta Scott King Award-winning artist Shane W. Evans's breathtaking illustrations combine to tell an inspiring tale of one girl's triumph against all odds.\

Teens Box
Purple Hibiscus 
by

 Chimamanda Ngozi Adichie

Fifteen-year-old Kambili's world is circumscribed by the high walls and frangipani trees of her family compound. Her wealthy Catholic father, under whose shadow Kambili lives, while generous and politically active in the community, is repressive and fanatically religious at home.

When Nigeria begins to fall apart under a military coup, Kambili's father sends her and her brother away to stay with their aunt, a University professor, whose house is noisy and full of laughter. There, Kambili and her brother discover a life and love beyond the confines of their father's authority. The visit will lift the silence from their world and, in time, give rise to devotion and defiance that reveal themselves in profound and unexpected ways.

This is a book about the promise of freedom; about the blurred lines between childhood and adulthood; between love and hatred, between the old gods and the new.