Hidden figures
In celebration of Black History Month, NYLON is running a spotlight series called UNAPOLOGETIC. Every day, we'll celebrate different aspects of black culture through profiles, interviews, roundtables, reviews, videos, and op-eds. #Blacklivesmatter and we hold that truth to be self-evident.
Every single day new advancements are being made in the world of education, but when you look at the media and the people who are making these advancements, you rarely will see a black woman being honored.
According to the National Council of Education 2012 education statistics report, African Americans make up 7 percent of all American college and university faculty. But out of that, African-American women only represent 4 percent of this total. And even though this number has increased slightly in recent years, it is still drastically lower than those faculty members of other racial/ethnic groups.
With that in mind, we have rounded up 10 noteworthy black women in academia who are truly making a difference in the world of education, even if they are not always recognized. From pushing boundaries within the astrophysics field to making sure that all children have access to top-notch schooling and care, these women are changing the game. Get to know them in the gallery ahead.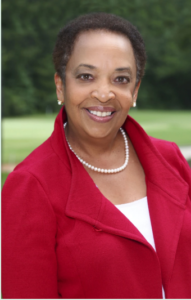 Eve J. Higginbotham
Dr. Eve Higginbotham, the vice dean for diversity and inclusion at the Perelman School of Medicine, has nearly three decades of experience in academia. Now a board-certified ophthalmologist, she received her S.B. and S.M. degrees in Chemical Engineering from the Massachusetts Institute of Technology (MIT) in 1975 and earned her medical degree from Harvard Medical School in 1979. In 1994 when she was appointed Chair of the Ophthalmology and Visual Sciences Department at the University of Maryland School of Medicine, she became the first woman to head a university-based ophthalmology department in the United States.

PHOTO VIA AFRICA.SI.EDU

Johnnetta B. Cole
A recipient of more than 60 honorary degrees, Dr. Johnnetta B. Cole is one of the more well-known leaders in the higher education community. Currently serving as the director of the Smithsonian National Museum of African Art, Dr. Cole is the only person to have served as president of both Spelman College and Bennett College for Women, two historically…